The History of Wedgewood
In 1759, Wedgewood china was established by Josiah Wedgewood. He was an innovative designer who employed strategies that were uncommon in their time. Wedgewood maximized his manufacturing by fulfilling orders after they were made through catalogs or travelling salesman. This manufacturing procedure also allowed for "customized" pieces and options. While Wedgewood was able to sell at larger volumes to the middle class, his success opened the door to higher quality products and sophisticated markets. Eventually, he even earned the notice and endorsement of Queen Charlotte.
In 1987, Wedgewood merged with Waterford Crystal. After 1987, products were marked under their combined name "Waterford Wedgewood". There were several companies that took in Wedgewood over the years. Presently, Wedgewood has been preserved under the Finnish Fiskars company as part of a merger with Royal Daulton.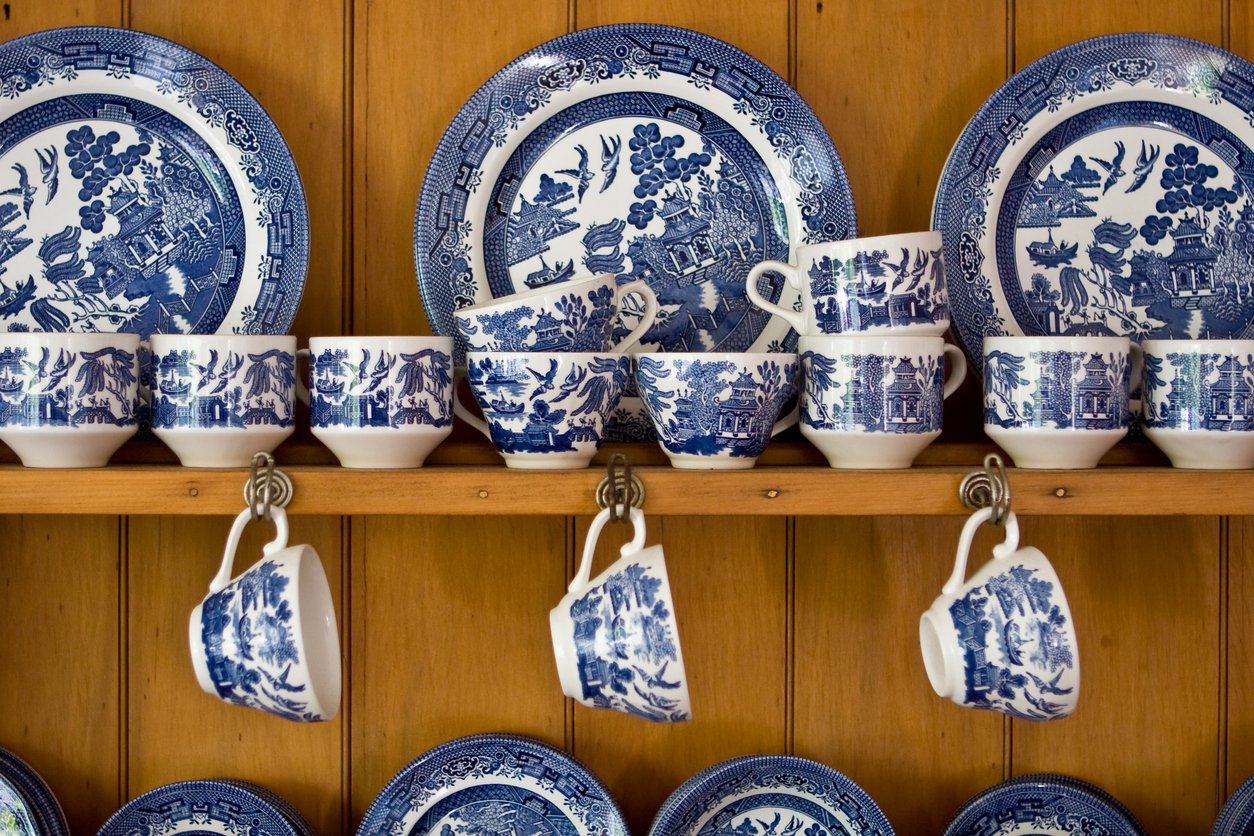 Valuable Wedgewood China Patterns
Because of Wedgewood's success and high-volume production, Wedgewood pieces are easy to come by. Their quality should not be downplayed when purchasing for use. Wedgewood collections are excellent tableware choices that can come in at reasonable prices for high-quality china. That said, being more common, the Wedgewood brand alone will not demand a high price in the antique or collectors' market—necessarily.
Not all Wedgewood patterns were common or widely produced. A mint condition vintage or antique Wedgewood set or rarer vase can be valued at over $10,000.
A rarity by any standard, an 18th century Wedgewood teapot protesting of the Stamp Act sold in 2009 for £80,000—or over 103,000 American dollars.
Popular Wedgewood Patterns
Coming out of the late 18th century, Wedgewood patterns embraced the fascination with classical and ancient cultures that were popular due to the English Empire.
Queen's Ware
The Queen's Ware line was established in 1765 by Josiah Wedgewood. The Queen's Ware line was the most popular type of creamware. Wedgewood became the most popular producer of creamware by lightening the cream color of the chine to a bluish hue. With this new, paler white Wedgewood relabeled the creamware as pearlware.
The line was authorized by the English Queen Charlotte of Mecklenburg-Strelitz after she was impressed by a tea set Josiah had presented to her.
Black Basalt Patterns
In the Black Basalt line, Wedgewood drew on the exotic patterns and figures of the ancient world. Started in 1768, the classical elements stood out. They included sphynx candlesticks, urns, and often featured deeper, dark colors. Black Basalt color comes from staining the ceramic material with metal oxides.
From 1768 to 1829 coloring the white ceramic base started as "solid". The colors were mixed throughout. By 1829 to 1860, mostly all Wedgewood ceramics were stained on the outside with a "dip". In 1860, Wedgewood began coloring some pieces with "solid" stain.
Characteristics:
Relief decorations, often in white but not exclusively
Rich colors, including black and terracotta
Ancient Egyptian and Classical design elements
Jasperware
Jasperware was the second traditional and groundbreaking neoclassical lines following the Black Basalt patterns a decade later. The Jasperware line also became popular beginning in 1774. The pieces look similar to popular cameo glass jewelry and captured the fascination with the classical world that marked this period. While the Black Basalt line included Ancient Egyptian motifs, the Jasperware line focused on the Greek and Roman influences.
Characteristics:
Unglazed, matte finish (This is called a "biscuit" finish)
Classical Greco-Roman design elements
Best known for a pale blue color, or Westwood Blue, although it comes in other colors

Other colors include

Black
Deep Blue
Lilac
Yellow
Sage green

Relief embellishments, usually in white but not exclusively
Fairyland Luster
In 1909, as Art Deco was starting to take hold, designer Daisy Makeig-Jones joined Waterford. As Makeig-Jones gained design authority, she introduced a line full of whimsy and vibrant color. When the Fairyland Luster line was introduced in 1915, it was well-matched to the peak of the Deco era. The unapologetic fluidity of lines and opulence held well with the changes that marked the 1920s. Unfortunately, the line was discontinued and Makeig-Jones asked to leave as the Great Depression opaqued the design world with more austere prints. That in no way stopped these bold yet elegant pieces from being a darling of collectors.
How to Authenticate Wedgewood
Authenticating and dating Wedgewood ceramics changes over the years. If the marks are evident, you can identify the period according to the following potter's mark:
1759 – 1860: Wedgwood (And possibly another potter marking and a single letter)
1860 – 1929: A three-letter mark that represents: month, potter, and year. Numbers can be represented by letters with 1860 starting the code at "O".
Note that Jasperware may be undated.
1891 – 1908: Wedgwood England
1908 – 1929: Wedgwood, Made in England
1929 – 1969: Wedgwood, Made in England (Font for "Wedgwood" now sans serif)
1970 – now: Wedgwood Made in England
Learn about other types of china including Aynsley china, English bone china, and Spode china.