If you love celebrating, entertaining, and dining then having a great centerpiece can really complete your guest's experience and complete your look. Using antiques and items you score at an auction as table decorations is a fabulous way to cost effectively change the mood with the food.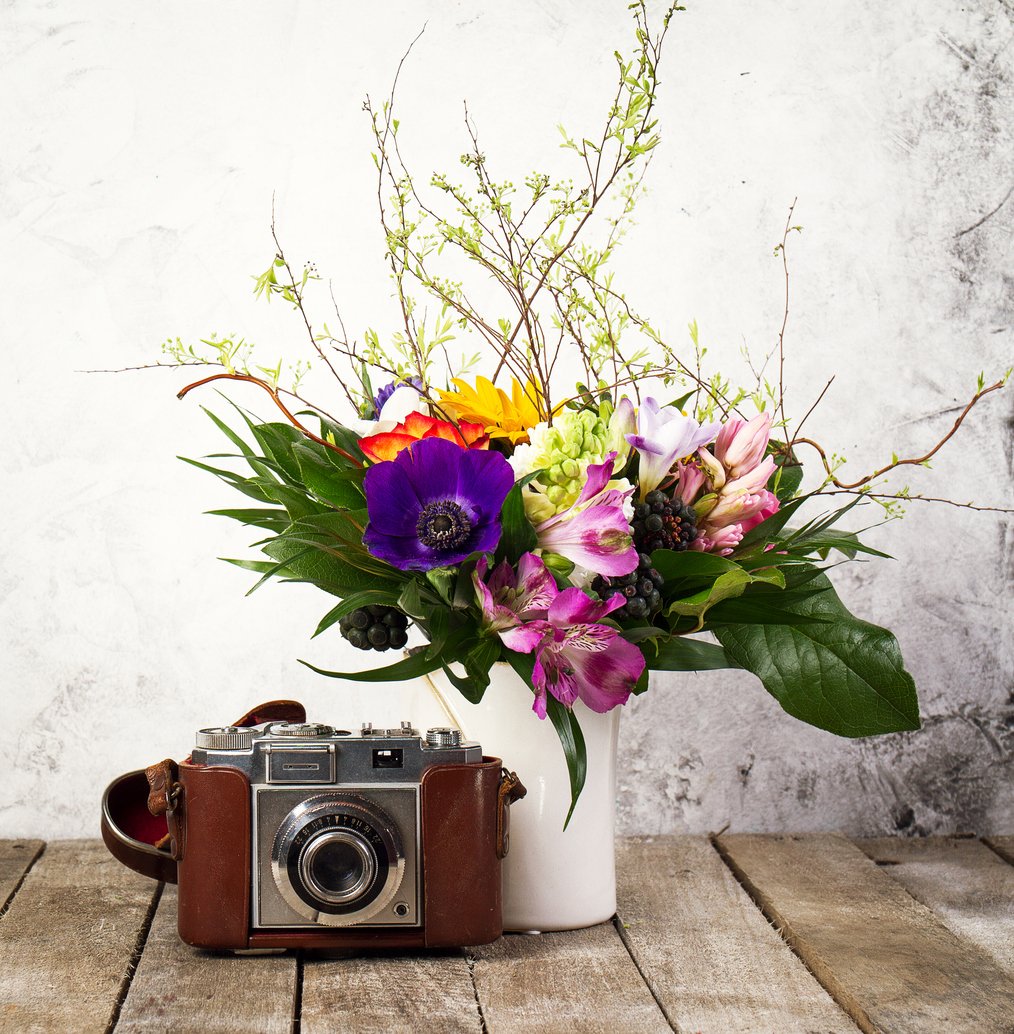 Here are some great ideas for repurposing items into interior decoration elements that will unite your look. And all of these feature well on your dining room table.
You can find a lot of great ideas and elements for your unique table centerpieces at MaxSold. Our online auctions make it easy to browse and bid on local finds.
IDEAS for TABLE CENTERPIECES
JARS
Use unique mason jars and vases as candle holders and flower vases. You can use a little glue to affix ribbon, buttons, and embellishments around the outsides. Getting containers in various sizes can make a lovely centerpiece. Center them in a cluster or line them up directly down the center of the table. If you have a garden or want to stop by the flower store, putting flowers in some or all of the jars makes for a quaint farm-to-table look. Try baby's breath for a simple cost-effective flare. Or pick bolder colored flowers like daffodils or snapdragons for a more fun look.
Put a little water or cooking spray in the bottom of the jar. This helps melted wax come out easily.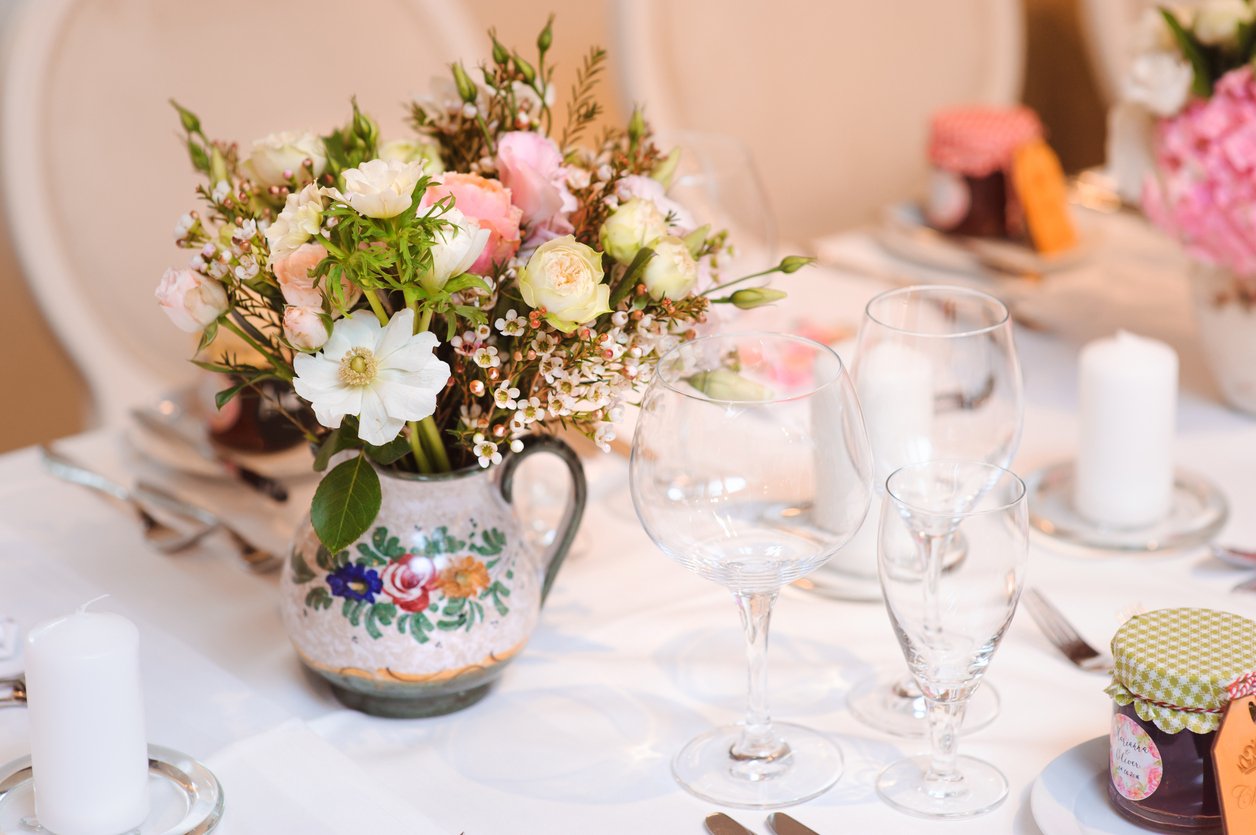 PITCHERS
Much like jars, pitchers make great vases. If you find a number of quaint ones, they make lovely collectibles. Put them on a display shelf when not in use. Use them as vases to create a French kitchen look. Or, fill them with chilled water and various colorful elements that flavor the water. Try lemons, limes, oranges, edible flowers, berries, or various sun teas if it's summer. You can freeze the fruits ahead of time to double as ice cubes.
ANTIQUES & REPURPOSED HARDWARE
Stranger antiques or finds from the yard, garage, barns, or farms make great centerpiece pieces. Some items, like old cameras, can be peppered between flower vases. Others actually make great candle and flower holders.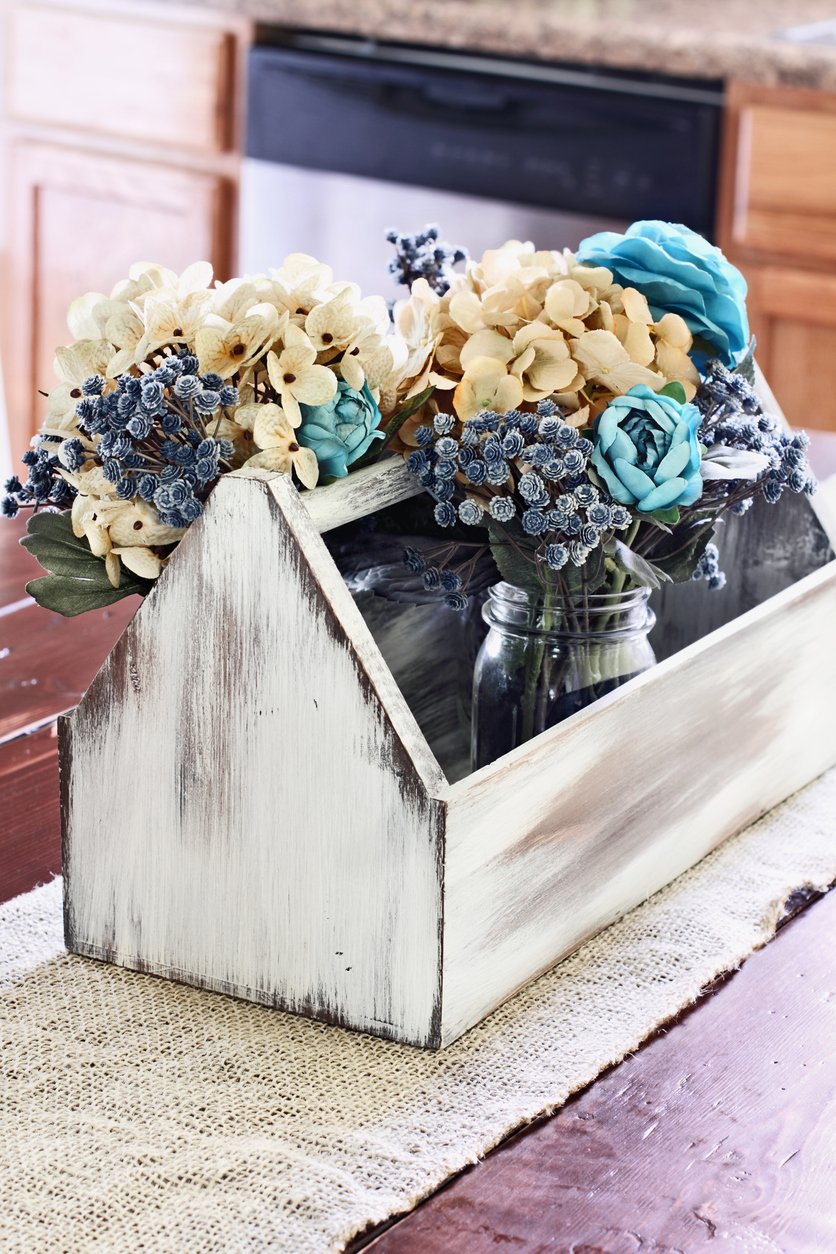 Consider some of these great finds (frequently found at online auctions):
Toolboxes
Milk jars
Colored glass
Baskets
Watering cans
Pails
Goblets and glassware\
Baskets and crates
Are you particularly crafty or can see the potential in an old piece? Try painting, distressing, or embellishing your precious new treasures for table centerpieces.
FIGURINES
People collect trinkets and figurines over a lifetime. Sometimes, those charming figures are orphaned by the cruel turns of the tide. Rescuing a few adorable figurines and incorporating them into your dining décor can be a second lease on life. Make scenes—particularly good for holidays—or put a few in with other centerpiece elements.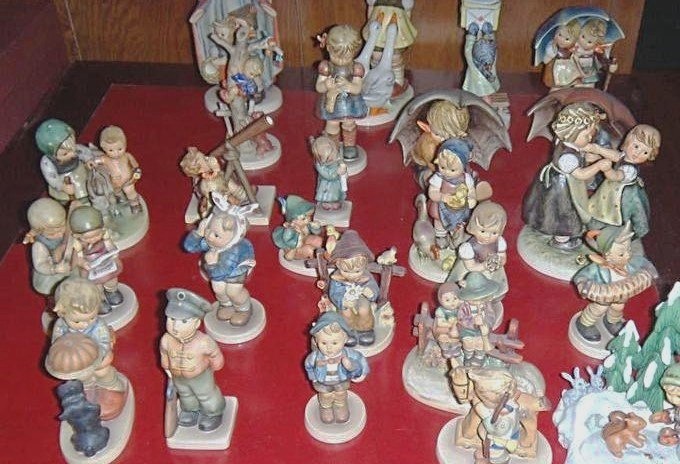 PLATES
Unique, mismatched plates and chargers with incredible designs make colorful elements for the table. Use them for a variety of things. Some ideas: candles, nuts and dried fruits, fresh seasonal fruit, butter dishes, bread, and/or stacks of napkins. Consider getting small ramekins or sauce plates and clustering them on festive larger plates. Include salt, pepper, and seasoned salt. Seasoned salt is easy to make by blending salt with your favorite seasonings, like cumin, chipotle, or paprika. Great for corn! If you are having a more picnic-style menu or BBQ, consider doing the same with condiments and pickles as with seasonings.
GLASS FRUIT AND VEGETABLES
There was a time when glass manufacturers grew a plethora of glass fruit and vegetables. These cute baubles are still available at auctions and second-hand stores. They have a little bit of a cute kitsch feel but can truly compliment healthy meals.
FABRICS
Make your own runners with fabrics, tassels, beads and even incorporate old jewelry into them. Look for old kerchiefs, too. Often, you'll find someone's unfinished crafts and sewing projects that can be your own project fulfillment. No sewing machine? Watch out for those, too. Household items are popular items in downsizing, moving, and estate sales.
Fabrics are great for making tablecloths, runners, placemats, and napkins. Scraps and fancy cloth napkins can make fantastic patchwork pieces.
RETRO JEWELRY
Retro jewelry (or any other antique or interesting jewelry) can be incorporated into your centerpieces. This is an especially good way to salvage a use for mismatched pieces or brooches that have lost their backs.
If you are making runners, consider adding them to the ends or borders. They make great corner embellishments for homemade placemats. Old jewelry also customizes candles and jars. For jars, attach the jewelry to a ribbon (we love burlap) before affixing the ribbon to the jar.
Jewelry also makes great wine glass tags, so everyone can find that glass they put down. You just need some wire from your local craft store and a glue gun. Want to give the guests a keepsake, let them take their piece home.
DIY DECOR
Whatever the meal or mood, there are creative ways to make the table as inviting as you are. The table decorating ideas are endless. Be creative. Once you start making your own table settings, you'll see that "homemade" is just as good for the table as on the table. Let the kids help for a nice family craft night.
Keep an eye on your local MaxSold online auctions for precious finds and inspiration.